Product Lifecycle Management (PLM)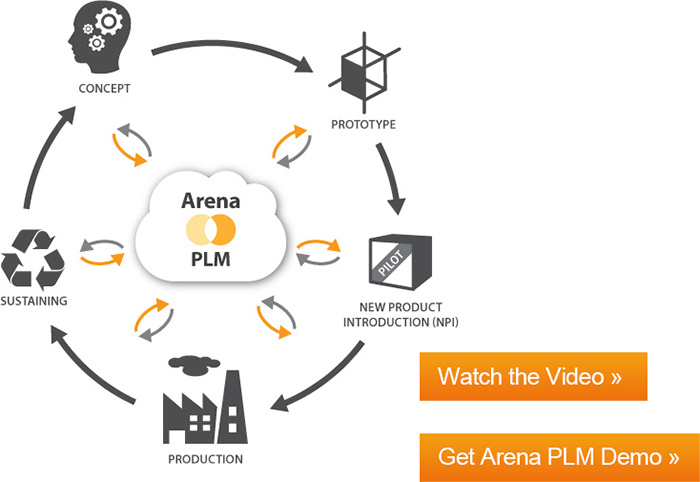 Manage the entire lifecycle of a product from its conception, through design and manufacturing – to end of life
Product Lifecycle Management (PLM) integrates people, data, processes and business systems. It provides product information for companies and their extended supply chain enterprise. Arena's PLM solution helps organizations overcome the increased complexity and engineering challenges of developing new products for the global competitive markets.
Why Arena PLM?
Arena invented PLM in the cloud and has over 70,000 global BOMControl users who have processed 2,000,000 change orders, 6,000,000 design files and 20,000,000 item records enabling engineering and manufacturing teams with their extended supply chains to simplify bills of materials (BOM) and change management (CM) for companies of all sizes.
Areas of Product Lifecycle Management (PLM)
BOMControl
Projects
Compliance
Integrations
Change Control(ECO)
Quality
Product Lifecycle Management (PLM) is a discipline emerged
from tools such as CAD, CAM and PDM.
Great products come from great companies. The complexities of todays products, business processes, and global environments are more challenging than ever before. Creating great products demand focus. To succeed, to outperform the competition, you need to optimize the product development processes that will deliver on your business initiatives and strategic goals. To do this, you need the right technology. Technology that will allow you to improve your operations, your processes, avoid disasters in the field, and help you turn your business initiatives into competitive advantage. Product Lifecycle Management (PLM) is the right technology for today's complex environment. PLM is enterprise software that ensures your product development resources and processes deliver real business value. PLM provides a view into the complete lifecycle. From great idea to a digital bill of materials (BOM) to a physical product.
With PLM, everyone contributing to the products design and development (regardless of geographical location) is able to access a single secure source of information. Whether you are entering new markets, creating sustainable revenue streams, protecting your product position, delivering on unique customer demands, or looking to lower overall product and lifecycle costs, with the right PLM technology, your company can achieve its business objectives like never before.