Lean Product Development
Why? To improve the business case for your products and secure long term profitability.
When? Why wait when the potential is huge just because you have a good market position today?
How? Regardless of how far your lean transformation have come, eBOM can give you new insights and accelerate your lean product development journey.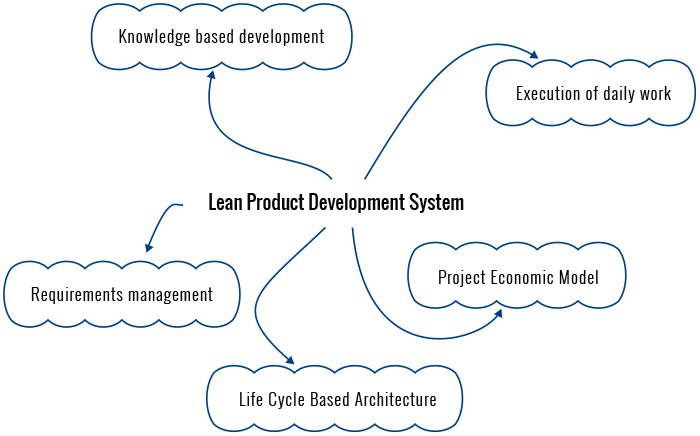 Visualization is the key
Visualization is the key to help teams come together and accelerate development cycles. All aspects of R&D needs visualization to help people in different parts of an organization to better understand the complex situation. If everyone sees everything clear and in the same way, a lot of wasteful behaviors can be minimized!
eBOM's customers visualize everything from impact objectives, phased requirements, product data, costing and sourcing as well as who is doing what and when in projects. Together this is a proven way to implement a practical lean product development system.
Lean Transformation
Visualization of product data and work are not everything needed to transform into a lean product development organization. You can use a battery of lean/agile methods in order to transform. All with the common practice of visualization. All our efforts to transform will aim at changing our current behavior into something that generates flow of product development knowledge and results. The change of the people in the team is the foundation to success!
Lean system thinking
At eBOM we approach the lean transformation in a systematic way. A small change in a department will improve a specific problem area, but the organization as a whole will not change that much. A holistic approach is important to make all our efforts work well together.
Learning process
During transformation we need to learn new stuff. We all know how easy it is to get inspired by a seminar or a good book, but also how difficult it is to get teams to actually change in our daily work. At eBOM we recognize that new knowledge is paramount, though bringing it together and create actual change in a team needs another set of knowledge and experience.
eBOM secures transformation with new daily and weekly routines that enforce what we teach. By doing this consistently, until it becomes a part of your every day routines, we ensure success! This daily and weekly cadence, accelerate new behaviors to become part of your culture from months to weeks. This means that your investment in training, rapidly becomes part of your everyday life and creates real value, fast.
Where to focus?
Some lean/agile methods are ways for management to gain clarity and better understand and lead the teams of experts. Other methods are directly aimed at the execution of daily work. Where do we focus our efforts?
A holistic approach suggest that we need to improve every aspect of our business, both management and execution. On the other hand we may loose focus if we try to change too much stuff at the same time.
At eBOM we start with an analysis to establish a map on where you are today, we do it together with your managers and experts. Is it a new approach to the architecture of the product that is most needed, a faster and more scientific decision making process or perhaps better resource utilization of experts; making sure they know what is the most important thing to do today, every day! After the analysis we create a plan that enables you to deliver your products faster while you learn and practice new lean/agile methods and tools.